Aquaman Symbol Pewter Keychain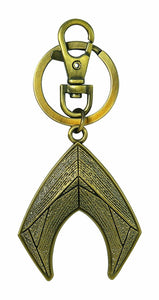 The symbol that strongly implies undersea royalty.

Our Aquaman Symbol Pewter Keychain is an authentic -- albeit smaller -- reproduction of Aquaman's commanding "A" symbol.

And like Aquaman, this ceremonial bit of Atlantean artisanship can withstand the immense pressures of incalculable depths.

Which means your Aquaman keychain will survive the Marianas Trench, but not your keys.

Made from solid pewter, this Aquaman symbol keychain -- layered in a weathered, golden finish -- celebrates the gruff pseudo-king and supremely hesitant member of the Justice League.
Charm measures 2" x 2".
Features a sizable keyring!
Features a push-button clip for easy keychain clipping!